Tag Search: call forwarding
Posted on Friday October 15, 2021 | voip, voice over internet protocol, business it, call forwarding, business tech, disasters, landline telephone systems, telecommunication systems, telephony systems
If your company's Voice over Internet Protocol (VoIP) telephony systems are not equipped to weather disasters like wildfires and hurricanes, then they may fail when a calamity occurs. This could disrupt your operations and you may lose productivity, customers, and profit as a result. To avoid such losses, you must follow these important steps.

Posted on Thursday September 21, 2017 | voip, testing, isp, disaster recovery, call forwarding, business continuity, backup network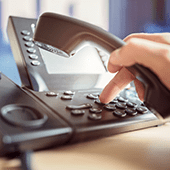 Voice over IP (VoIP) phone systems offer far superior mobility, functionality, and cost-efficiency than traditional landlines. But like any computer system, it can be vulnerable to service disruptions, equipment failure, and cyberattacks. With proper preparation, however, your phone systems can weather any disaster.

Page: 1