SaaS (Software as a Service) for IT Systems Management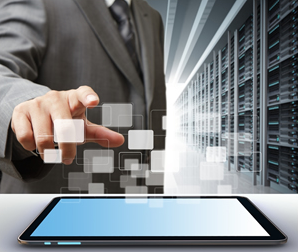 Network Services Group (NSG) provides you with a single source of professional expertise and resources you need to streamline system management and support functions at an affordable price. NSG uses advanced processes, tools, methodologies and a help line for your employees to deliver superior services that match your needs.
Large businesses find themselves using multiple software tools in their pursuit of a true managed services solution. In many cases, IT professionals find themselves using multiple free software programs and other programs that were paid for to perform daily tasks. This requires jumping from program to program and having multiple logins. With Total Care SaaS, IT professionals have the power to perform all their needs under one tool, one screen and one login alleviating the need for having multiple software programs.
Total Care SaaS from NSG consists of a low cost base packages with the availability of add on modules to fit your businesses specific needs and provides affordable proactive IT management and support. Utilizing our unique framework for providing managed IT services, NSG provides a range of proactive services designed to optimize your technology investment and maximize the productivity of your people and business.
NSG Total Care SaaS range from routine system maintenance and management to complete IT outsourcing. We will help you keep employees working while turning your data networks into an effective, efficient component of your growing business.
Total Care SaaS Base Package Includes:
Audit and Inventory
Health Monitoring and Alerting
Microsoft Patch Management
Remote Control
Automated Procedures
Reporting Center
Discovery Services
Network Discovery
Total Care SaaS Add-on Modules:
Anti-Virus MGMT / Servers
Anti-Virus / Anti-Malware - Desktops
Local Backup & Recovery
Cloud Backup & Disaster Recovery
Software Development & 3rd Party Patch MGMT
DesktopPolicy MGMT
Desktop Migration
Imaging & Deployment
Advanced Service Desk
Mobile Device MGMT
Network Monitor Module
Corporate Help Desk Services
Field Services
Field Services Overview
Customer Premise Equipment (CPE) Installations
Inside Wiring (IW) & Demarc Extensions
Point-of-Sale (POS) & Network Device Installations
Trouble Tickets/Maintenance Dispatch
De-installations/Equipment Retrievals
Competent and Professional Engineers
Network Services Group (NSG) will dispatch our highly trained field engineers to serve your customers, wherever they may be, with the utmost in professionalism.
NSG Field Engineers are equipped with the latest technology to serve your needs. All Field Engineers have access to T-BERD testers, sniffers, and LAN & protocol analyzers for specific tasks.
Our Field Engineers are trained in commercial and residential voice and data inside wiring and are fully prepared to perform extensive inside wiring, Category 5 & 6 LAN cabling, and xDSL, ISDN, DDS, T1, T3, and Fiber demarc extensions. NSG Field Engineers are also trained in the installation of point-of-sale equipment and most commonly used network devices.
Services Designed to Meet Your Specific Requirements
NSG Field Engineers are managed by the NSG Technical Access Center (TAC), which is staffed 24x7x365. The NSG TAC is responsible for dispatching Field Engineers, logging them on and off site, quality assurance, and fully documenting the findings and results of each dispatch. Your company's specific dispatch requirements, as well as your test-and-acceptance procedures, are maintained at the NSG TAC, which assures that each Field Engineer follows your specific requirements while onsite. We can also offer enhanced acceptance testing to remove the strain on your call center as well as private label Tier 1 and Tier 2 support directly to your clients/customers and engineers.
NSG is your single point of contact for the coordination of the service, support, and maintenance of your account. In addition to intensive sales support, we also offer a single contact number for dispatches 24 hours a day. This includes a clear escalation path up to the senior management level. Our service portal offers real-time web-based information on the activities that occur throughout each dispatch, invoicing, and service statistics.
Priced for Your Profitability
NSG is priced for profitability – your profitability! By relying on automation, we are able to keep overhead and superfluous expenditures to a minimum. These efforts reward you by maintaining pricing at fair and competitive Tier 1 & Tier 2 rates that offer you a significant margin, if resold, or substantial saving, if internalized.
Private Label Services
Our field services are private labeled and can be branded by your company, offering a unified image to your customers/clients. For your benefit, NSG can perform a multitude of CPE installations, including the installation of switches, routers, multiplexers, channel banks, CSU/DSUs, modems, ATAs, and access devices. All of our Field Engineers have the necessary knowledge to complete the troubleshooting, installation, configuration, and maintenance of most CPE types that support voice and/or data services.
We are available to respond quickly to trouble tickets, maintenance dispatches, de-installations, and equipment retrievals as a means of helping you manage your current customers/clients. We also offer installation and maintenance services in the central office environment.
Network Services Group can represent your company with consistent quality and a range of services priced for your profitability. We are centrally managed by the NSG TAC and report to you online in real time.
Statewide Service
From equipment installation to running inside wiring and resolving site troubles, we offer service anywhere in the state of Michigan with top notch quality and value.