Metro Ethernet Over Fiber Optics
As a MPLS provider, Network Services Group (NSG) offers MPLS technology for speeding up network traffic flow and making it easier to manage. In addition to moving overall traffic faster, MPLS is flexible, fast, cost efficient and allows for network segmentation.
NSG Fiber Optics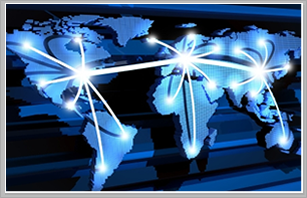 With Fiber Optic speed and reliability, the Metro Ethernet Service is helping businesses with shrinking IT budgets by addressing heavy data needs, faster point to point connections and allowing voice services to be transmitted over a robust, secure and reliable circuit. Businesses are no longer limited to bonding T1 circuits together to increase bandwidth. Fiber Optics via Metro Ethernet Service has significantly added enhanced value, performance and speed to enterprises local area networks and in connecting to the Internet.
MPLS Provider – Multiprotocol Label Switching
MultiProtocol Label Switching (MPLS) is an instrument of a high-performance network that flows data from one network point to the next based on labels rather than long network addresses, eluding complicated routing information. MPLS provides a variety of connectivity options including Metro Ethernet, Fiber Optic Networks and T1 services.