Tag Search: privacy
Posted on Friday November 30, 2018 | crime, Piracy, privacy, security alerts
An anonymous reader writes: Starwood Hotels has confirmed its hotel guest database of about 500 million customers has been stolen in a data breach. The hotel and resorts giant said in a statement filed with U.S. regulators that the "unauthorized access" to its guest database was detected on or before September 10 -- but may have dated back as far as 2014. "Marriott learned during the investigation that there had been unauthorized access to the Starwood network since 2014," said the statement. "Marriott recently discovered that an unauthorized party had copied and encrypted information, and took steps towards removing it." Specific details of the breach remain unknown. We've contacted Starwood for more and will update when we hear back. The company said hat it obtained and decrypted the database on November 19 and "determined that the contents were from the Starwood guest reservation database." Some 327 million records contained a guest's name, postal address, phone number, date of birth, gender, email address, passport number, Starwood's rewards information (including points and balance), arrival and departure information, reservation date, and their communication preferences.

Posted on Wednesday November 21, 2018 | ransomware, privacy, malware, infosec, information security, cybersecurity, cybercrime, cyber threats, android mobile security, android device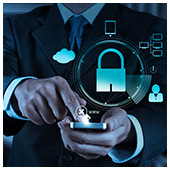 When personal and professional information live on one mobile device, a small breach can have huge impacts. As the adoption of bring your own device (BYOD) policies increase, employee awareness of cyberthreats becomes critical. Here are five tips for avoiding common Android-based security risks.

Posted on Saturday October 20, 2018 | crime, Piracy, privacy, security
An anonymous reader quotes a report from Gizmodo: Sensitive information belonging to roughly 75,000 individuals was exposed after a government healthcare sign-up system got hacked, the Centers for Medicare & Medicaid Services (CMS) said on Friday. The agency said that "anomalous system activity" was detected last week in the Direct Enrollment system, which Americans use to enroll in healthcare plans via the insurance exchange established under the Affordable Care Act -- also known as Obamacare. A breach was declared on Wednesday. It's unclear why the agency, which is part of the U.S. Department of Health and Human Services, chose to not announce the incident sooner. Officials said the hacked portal is used by insurance agents and brokers to help Americans sign up for coverage and that no other systems were involved. The affected system has been disabled. CMS said it hoped to restore it before the end of next week. "I want to make clear to the public that HealthCare.gov and the Marketplace Call Center are still available, and open enrollment will not be negatively impacted," CMS Administrator Seema Verma said in a statement. "We are working to identify the individuals potentially impacted as quickly as possible so that we can notify them and provide resources such as credit protection."

Posted on Tuesday August 14, 2018 | mobile, privacy, security alerts
From border crossings to hacking conferences, that Bitcoin or political sticker may be worth leaving on a case at home. From a report: Plenty of hackers, journalists, and technologists love to cover their laptop in all manner of stickers. Maybe one shows off their employer, another flaunts that local cryptoparty they attended, or others may display the laptop owner's interest in Bitcoin. That's all well and good, but a laptop lid full of stickers also arguably provides something of a red flag to authorities or hackers who may want to access sensitive information stored on that computer, or otherwise cause the owner hassle. "Conferences, border crossing[s], airports, public places -- stickers will/can get you targeted for opposition research, industrial espionage, legal or investigative scrutiny," Matt Mitchell, director of digital safety and privacy for technology and activism group Tactical Tech, told Motherboard in an online chat. Mitchell said political stickers, for instance, can land you in secondary search or result in being detained while crossing a border. In one case, Mitchell said a hacker friend ended up missing a flight over stickers.

Posted on Monday August 13, 2018 | Censorship, DRM, media, privacy
An anonymous reader quotes a report from TorrentFreak: Facebook previously banned the sale of fully-loaded pirate streaming devices, as did Amazon and eBay, but the social network appears to have expanded this to all Kodi-powered hardware now. This is made clear in the prohibited content section of the company's commerce policies, as shown below. Facebook states that users are no longer allowed to promote "the sale or use of streaming devices with KODI installed." In addition, jailbroken or loaded devices are also banned from the platform. The issue was first noticed by CordCuttersNews which notes that sellers who violate the policy may have their Facebook accounts banned. Interestingly, Facebook will still permit the sale of "add-on equipment for KODI devices," including keyboards and remotes. However, selling any devices with the software itself is no longer allowed.

Posted on Tuesday June 05, 2018 | Biotech, crime, privacy, security
Joseph Cox, reporting for Motherboard: Unfortunately for customers of MyHeritage, a genealogy and DNA testing service, a researcher uncovered 92 million account details related to the company sitting on a server, according to an announcement from MyHeritage. The data relates to users who signed up to MyHeritage up to and including October 26, 2017 -- the date of the breach -- the announcement adds. Users of the Israeli-based company can create family trees and search through historical records to try and uncover their ancestry. In January 2017, Israeli media reported the company has some 35 million family trees on its website. In all, the breach impacted 92,283,889 users, according to MyHeritage's disclosure.