Tag Search: user experience
Posted on Friday August 27, 2021 | website design, web design, user experience, ecommerce, business tips, bounce rates, website tips
In a recent survey by Vistaprint, 42% of the 1,800 participants said that it was "very unlikely" for them to purchase from "ugly" websites. That's not so surprising, given that there are plenty of visually appealing and user-friendly competitors' websites that they can visit instead. If your business website fails to make a critical good first impression, it could trigger high bounce rates — which then translates to missed opportunities and lost revenue. You can avoid this by improving some of your website's elements.

Posted on Monday August 09, 2021 | web trends, website design, web design, user experience, dark mode, web and cloud, web animation, micro animations, micro interactions, mobile friendly, ux, webpage design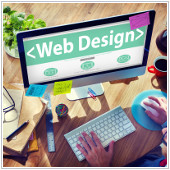 Most modern businesses build and maintain their own website to reach more customers. It's good to have an online presence, but know that your competitors are also doing their best to optimize their websites for better brand awareness and profitability. Don't fall behind -- follow these web design trends to increase web traffic and boost your bottom line.

Page: 1